Inbound marketing focuses on earning your prospects' interest, rathen than buying them. Why take a risk and buy your prospects rather than listening to their needs and investing in their interest? Engage them in creative content and campaigns (targeted emails, blog posts, white papers, social media platforms) and always listen and communicate with them. The more you engage with them, the more they will trust you – which of course will convert them from a prospect to a reoccuring customer.
In the recent "2013 State of Inbound Marketing – Europe Report", Hubspot gathered data from over 400 marketers across Europe. The report shows the thoughts of European employees versus their US counterparts.
"EMEA marketers spend 76% more on inbound efforts than outbound"
How many times have you deleated an email without even opening it? Skipped past a TV commercial? Or threw away a mail flyer that you deemed as "junk mail"? European marketers are steering away from outbound marketing: traditional advertising, direct mail and trade shows, and focusing more of their efforts on inbound marketing: blogging, social media and SEO.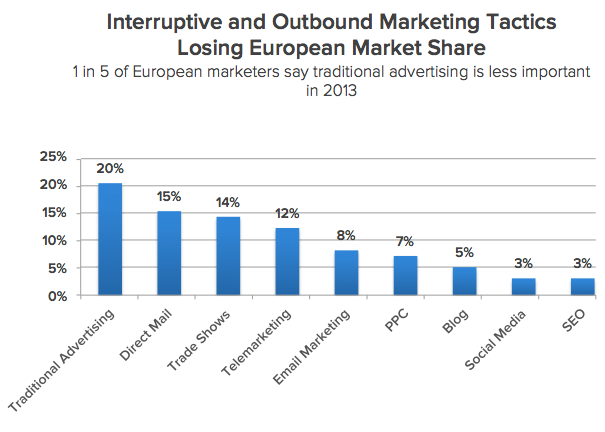 What should I do? Engage, listen and communicate. Maintain an open dialogue and a two-way conversation. Since companies are spending more money, invest more time to show that you are interested. SalesBuddy will help you create intriguing content that creates a discussion. And always have a crisis management strategy in place for unhappy customers. Respond to them sooner than later in order to prevent a small flame from flaring up into a PR bonfire.
"58% of European marketers implemented inbound marketing strategies for 2013"
The whopping 58% of marketes proves that the European market is advanced and understands the significance of inbound marketing activities similar to the US. With another potential 21% of marketers who "don't know" and could convert to "yes", shows that they are open for suggestions and need to be educated on how successful it can be towards their business.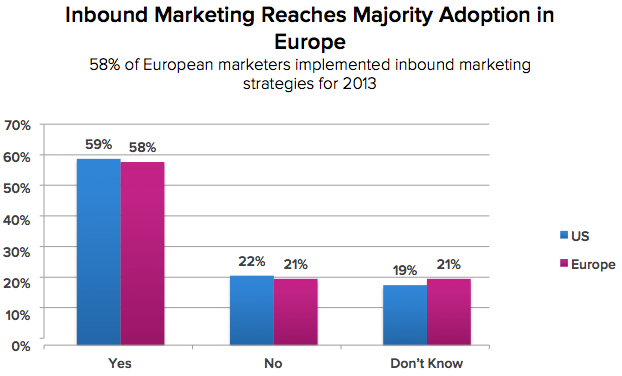 What should I do? Create localized content! Most companies have a dedicated online marketing team that focuses on social media. With the help of SalesBuddy, begin creating content to promote these social media platforms and other online channels. With SEO, social media and blogs being the top three lead sources for European marketers (as shown in the previous graph), your content will reach the right hands.
"23% of European marketers focused on both reaching the right audience" within the next 12 months
European marketers are more interested in the quality versus quantity of leads. They want to speak to the right people, rather than speaking to everyone in of masses.  People are too busy to read through every email and pay attention to your commercial if it doesn't interest them. Therefore, you need to engage them in topics that pertain to them.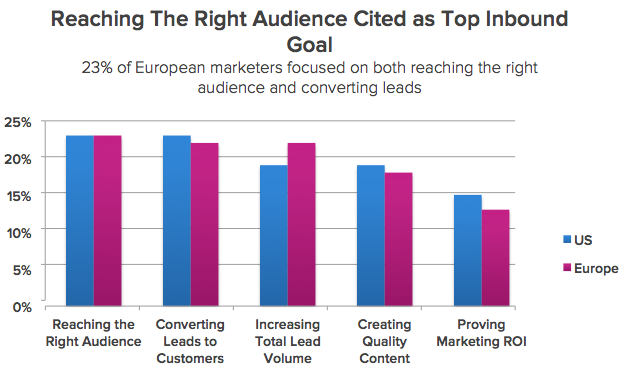 What should I do? Segement your database. Prospects and customers no longer want to be treated like everyone else; they want their own, personalized and individual services, products, and attention. Segement your database on demographics, geography, hobbies, abandoned shopping carts, power users, etc. SalesBuddy can help you determine the right segmentation fields and correct demographic of people to target and will supply you with a targeted list of email contacts.